Structure of British Sport
In Britain, clubs, groups and individuals have developed their particular sport in their way, and their governing body protecting them has meant that we do not have a national sports policy. The Sports Council, founded in 1972, was an attempt to develop a national sports policy.
Structure of Sport
The following diagram (Beashel 1997)[1] gives a pictorial view of the structure of sport in Britain and the associated governing bodies.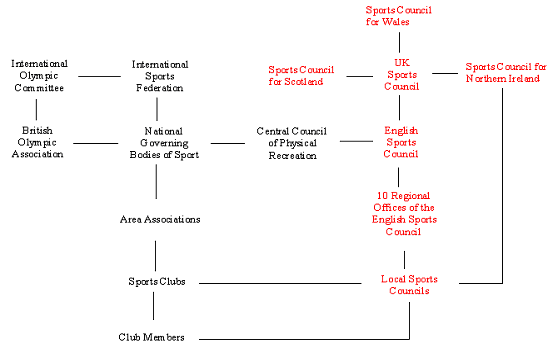 Roles
Some of the roles and responsibilities of the various bodies are as follows:
International Olympic Committee - Manage all Olympic matters
International Sports Federation - Manage their sport worldwide
British Olympic Association - Promote the Olympics
National Governing Bodies of Sport - support Sports Clubs

promote and run the sport
organise competitions and events
select teams at all levels
set coaching standards
arrange coaching and training
organise award schemes
enforce rules and regulations

Central Council of Physical Recreation - Represent their governing bodies
UK Sports Councils - Manage Sport in the UK and International affairs
Sports councils for Wales, Scotland, England and Northern Ireland - Try to coordinate all the different organisations involved in developing sport in their country
Sports Councils
The aims of each Sports Council are to:
increase participation in sport and physical recreation
increase the quantity and quality of sports facilities
raise standards of performance
provide information for and about sport
The Sports Council:
provide grants to the national governing bodies to run programs to meet the Sports Councils aims
provide grants for new facilities
run campaigns to encourage participation
run national sports centres
responsible for providing the money for sport from the National Lottery
produce strategy documents to explain how they will achieve their aims in the future
In 1993, the Sports Council published 'Sport in the nineties: new horizons', which describes their vision of everyone being able to participate and reach their full potential in sport. To turn this vision into practice, there are aims based on two key principles: the sports development continuum and sports equity.
Sports Development Continuum
The aim is to offer everyone the chance to improve their skills and participate in sport and physical recreation. There are four stages:
foundation - young people are taught P.E. and learn basic sports skills
participation - everyone can take part in the sport of their choice
performance - those interested have the chance to improve their sporting ability
excellence - talented performers can develop sporting excellence
Sports Equity
The aim is to protect sport and participants from harmful influences. It is about:
fairness in sport
enabling all to take part
recognising problems and acting
changing the culture of sport so that age, race, gender or ability does not stop anyone from taking part
The emphasis is on:
help for young people
the support of excellence
the use of National Lottery funds to improve facilities and support top participants
---
References
BEASHEL, P and TAYLOR, J (1997) Providing for Sport. In: BEASHEL, P and TAYLOR, J, The World of Sport Examined. Croatia: Thomas Nelson and Sons, p. 164
---
Page Reference
If you quote information from this page in your work, then the reference for this page is:
MACKENZIE, B. (2001) Structure of British Sport [WWW] Available from: https://www.brianmac.co.uk/structure.htm [Accessed
---
---