Profile of Mood States (POMS)
POMS is a standard validated psychological test formulated by McNair et al. (1971)[1]. The questionnaire contains 65 words/statements that describe the feelings people have. The test requires you to indicate for each word or statement how you have been feeling in the past week, including today.
Required Resources
To conduct this test, you will require:
Questionnaire (see below)
Assistant
How to conduct the test
The assistant explains the test protocol to the athlete:

Read each word/statement below, decide how you have been feeling concerning the word/statement in the past week and today, and select the appropriate statement "Not at All", "A Little", "Moderately", or "Quite a Lot" or "Extremely" to indicate your feeling.

The athlete responds to the 65 words/statements on the questionnaire below - no time limit.
The assistant determines and records the athlete's mood state scores.
Questionnaire
Normative Data
Terry (n.d.)[3] provides POMS norms for an athletic sample (n=2086) grouped by level of competition (International standard athletes, club level athletes and recreational athletes).
| | | | | | | |
| --- | --- | --- | --- | --- | --- | --- |
| Group | Tension | Depression | Anger | Vigour | Fatigue | Confusion |
| International | 5.66 | 4.38 | 6.24 | 18.51 | 5.37 | 4.00 |
| Club | 9.62 | 8.67 | 9.91 | 15.64 | 8.16 | 7.38 |
| Recreational | 6.00 | 3.11 | 3.60 | 17.78 | 6.37 | 4.84 |
Analysis
Analysis of the result is by comparing it with previous tests' results. It is expected that the analysis would indicate an improvement with appropriate training between each test.
Morgan & Johnson (1978)[2]found that plotting elite performers' mood state results before competition exhibited the graph below. This graph was termed the "Iceberg" profile with a raised peak for vigour.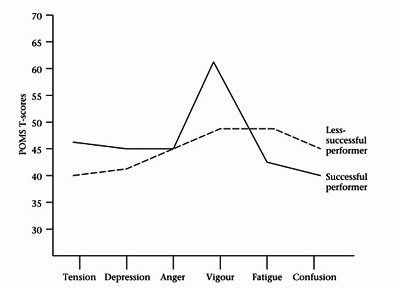 Target Group
This test is suitable for anyone but not for individuals where the test would be contraindicated.
Reliability
Test reliability refers to how a test is consistent and stable in measuring its intended measure. Reliability will depend upon how strict the test is conducted and the individual's level of motivation to perform the test. The following link provides various of factors influencing the results and test reliability.
Validity
Test validity refers to the degree to which the test measures what it claims to measure and the extent to which inferences, conclusions, and decisions based on test scores are appropriate and meaningful. This test provides a means to monitor the mood state of an athlete.
Advantages
No equipment required
Simple to set up and conduct
Can be conducted almost anywhere
Disadvantages
Assistant required to administer the test
---
References
McNAIR et al. (1971) Manual for the Profile of Mood States. San Diego, CA: Educational and Industrial Testing Service.
MORGAN, W.P. and JOHNSON, R.W. (1978) Personality characteristics of successful and unsuccessful oarsmen. International Journal of Sport Psychology, 9, p. 119-133
TERRY, P. (n.d.) Normative Values for the Profile of Mood States for Use with Athletic Samples, [WWW] Available from: https://eprints.usq.edu.au/4385/2/Terry_Lane_JASS_v12n1_Author's_version.pdf [Accessed 30/06/2013]
---
Page Reference
If you quote information from this page in your work, then the reference for this page is:
MACKENZIE, B. (2001) Profile of Mood States (POMS) [WWW] Available from: https://www.brianmac.co.uk/poms.htm [Accessed
---
---